Home

› Bulk SMS Software - Professional
Select the Product you want.
Bulk SMS Software - Professional

Price : $69.00

Category : SMS Sending Software

Availability : In Stock

➪ Benefits of using Bulk sms messaging software:

Option to send bulk messages contains non-English (Unicode) characters.
No Internet connection required to send sms from pc.
Save time and significant amount of money on your bulk mobile marketing campaign.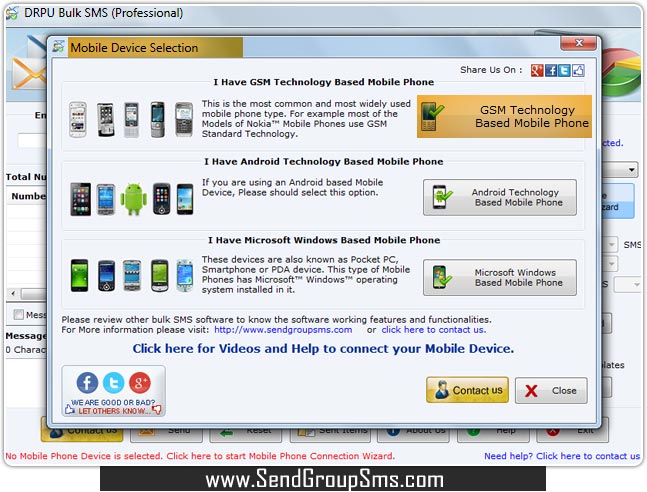 Step1 :

Select "GSM Technology Based Mobile Phone", if you want to send SMS using GSM Mobile Phones.
Bulk SMS Software - Professional allows you to send group text messages from PC using Android, GSM, Windows based mobile phones or USB modems. SMS sending program provides exclusion list Wizard option to maintain the lists of contacts or Groups, which you may need to exclude time to time during sending SMS.

SMS messaging program supports multiple USB modems or GSM mobile phones for sending group text messages. SMS sending program send sms message from computer without using sms gateway program or internet connection.
➫ How to send SMS using Bulk SMS Software - Professional using GSM Mode ?
➪ Software Features

Compose and send text messages from pc to individuals or list of phone numbers.
Provides option to add and paste contact number manually for broadcasting SMS.
Bulk text message program load Contacts from File or Send unique or personalized SMS to every Contact using Excel.
Advance option to load contacts from phone memory while using Windows and Android mobile phone for sending bulk messages.
Bulksms application save sent messages and can be easily viewed by the user.

Provides facility to send bulk sms messages using Delayed Delivery Options to control and customize the load of SMS broadcasting.
SMS broadcasting program can deliver greetings, alerts, business campaigns, reminders, events and other personalized SMS over worldwide location in less time.
Exclusion list Wizard option maintains the Lists of contacts or Groups, which you may need to exclude time to time when sending sms from computer.
GSM cell phone texting tool provides option to save sent message to templates.
Group SMS sender apps are compatible with major GSM technology based mobile devices, Android Smart Phones, Windows mobile phones and USB modems.