Mac Bulk SMS Software (Multi-Device Edition)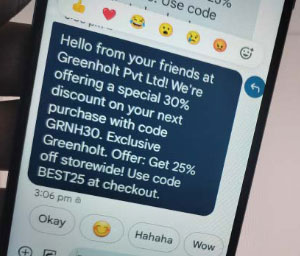 Mac Bulk SMS Software - (Multi-Device Edition) broadcast unlimited text messages from your Mac system to number of cell phone devices via connecting multiple GSM technology based mobile phones. Text messaging program provides delayed delivery option which helps in controlling and customize the load of broadcasting SMS. Software provides option to skip duplicate number entries and allows you to keep in touch with your family members, friends, customers and others by sending group mobile sms.
Using Mac Bulk SMS Software (Multi-Device Edition), you can send Notification, Standard messages, Event alert, Stock update details, Product promotion details, Reminders, Job alerts, Greetings messages, Business campaigns and more.
Grow your business presence in market via mobile messaging software
01
Provide option to communicate with multiple people by sending group sms without any internet connection.
02
Increases your business revenue and sales by sending group SMS to your global mobile customers.
03
Reach your customers base at any time and place by broadcasting bulk SMS.
04
Provides complete mobile marketing solution to promote your products by sending group SMS.
Inbuilt delayed delivery option: SMS gateway software controls and customizes the load of broadcasting SMS using delayed delivery option.
Allows user to send notification and standard SMS: Bulk SMS Software for apple Mac OS X delivers standard messages as well as notifications from your GSM mobile connected with MAC machine.
Looking for Mac Bulk SMS Software (Multi-Device Edition)
Select the Product you want.