Bulk SMS Software - Multi USB Modem
Price : $49.00
Category : SMS Sending Software
Availability : In Stock
➪ Software Features:
Supports multiple USB modems to send group messages.
Delayed delivery option to manage load of bulk SMS.
Facilitate you to save sent sms to template that can be viewed later.
Does not require internet connection to broadcast bulk SMS.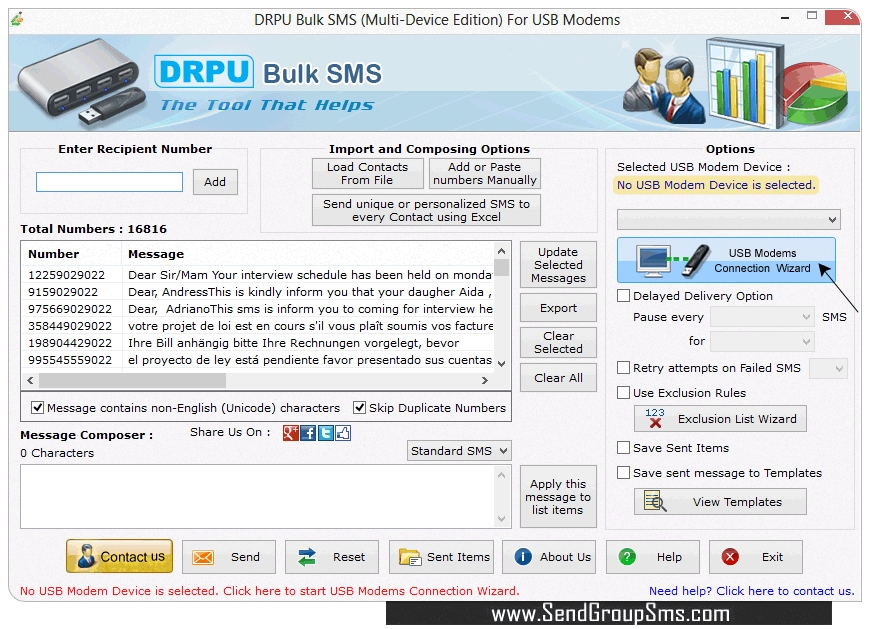 Step1 :

If No USB modem device is selected, then click on 'USB modems Connection Wizard' button. Use Import and Composing Options to load contacts from file, phone or send unique or personalized SMS to every Contact using Excel.
Want to send thousands of text messages across the world?

Bulk SMS Software for USB Modem is designed to broadcast number of text messages from PC using USB modem. Text messaging program supports all Unicode languages to send sms from computer to your friends, relatives and business partners.

Bulk SMS software works as your personal sms gateway to send text message instantly. Bulk SMS software allows user to connect multiple USB modems with computer for sending sms from PC to mobile phones.
Why to prefer Bulk SMS Software for USB Modem
Bulk SMS software helps you to send sms from pc using GSM modems.
Broadcast notifications and standard messages through USB modem that is connected with your PC.
Offer inbuilt list wizard option to manage list of contact numbers to send sms from modem.
Provides easy way to send text sms in bulk number via USB modems.
SMS Software is useful to send share market updates, important alerts, events, reminders and other text messages across the world.

Select the Product you want.