Select the Product you want.
Mac Bulk SMS Software - Multi USB Modem
Price : $49.00
Category : Mac Bulk SMS Application
Availability : In Stock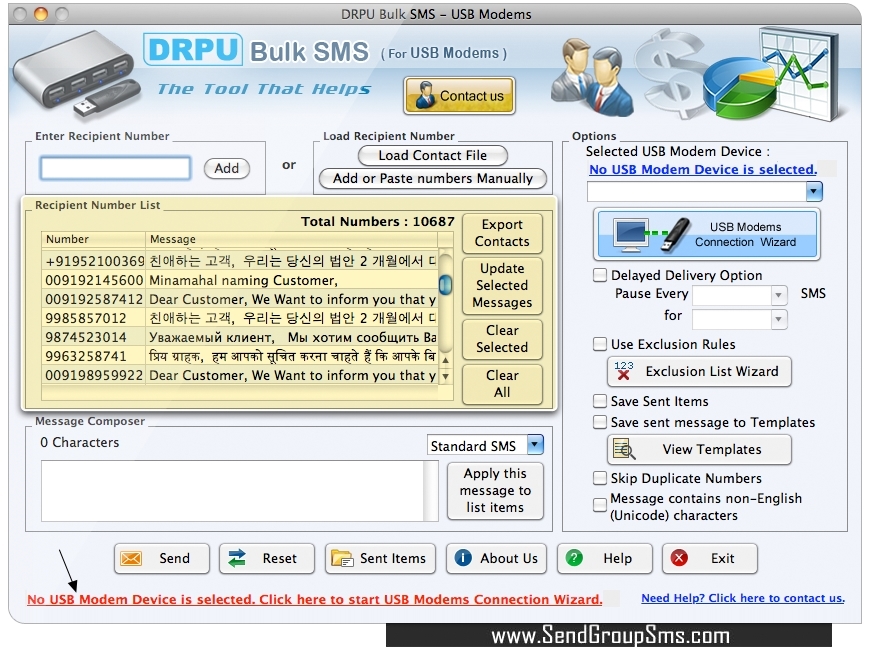 Step1 :

Load Recipient Number to load Contacts from file or Add or Paste Numbers manually. If No USB Modem device is selected, then click on 'USB Modem Connection Wizard' to start connection process.
Mac Bulk SMS software for USB modem can send group SMS simultaneously from your MAC machine to multiple numbers of mobile phone using USB modem. PC to mobile group text messaging program quickly delivers notifications and standard messages over national/international mobile networks without requiring internet facility.
Software Working Features:
➭ Sends multiple numbers of text messages:
Mac bulk SMS application can forward job alerts, business campaigns, share market updates, reminders, notifications and standards messages across the world from your mac machine connected using GSM USB modem.
➭ Saves entire sent text messages details:
Mac SMS sender program for Mac saves all sent text messages details in text or html file that can be viewed later.
➭ Provides Delay delivery option:
USB text messaging program for mac provides advanced delay delivery option to control and manage load of bulk SMS.
➭ Send text messages in different languages:
Mac sms broadcasting program for mac can deliver unlimited SMS in different text format from your Mac computer to individual or list of contact numbers using USB modem.
➭ Provides facility to skip duplicate contact number entries:
Pc to mobile SMS sending software skips duplicate contact number entries while sending bulk text messages from your Mac OS X installed computer using USB modem.
Select the Product you want.