Select the Product you want.
Bulk SMS Software (Multi-Device Edition)
Price : $49.00
Category : SMS Sending Software
Availability : In Stock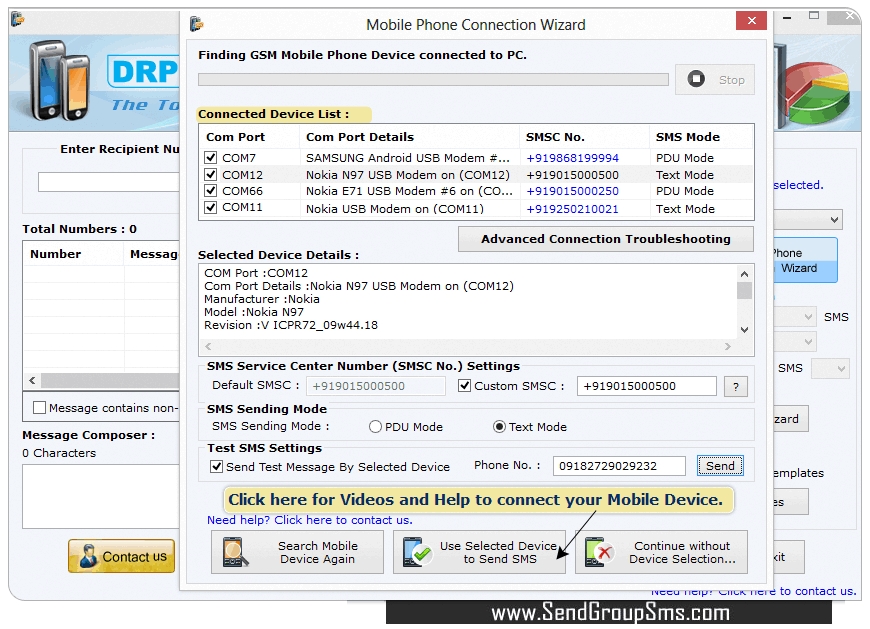 Step1 :

Wizard shows Connected Device List, select particular COM Port to view corresponding device details like COM Port Details, Manufacturer, Model and Revision.
Bulk SMS Software (Multi-Device Edition) provides facility for sending bulk number of text messages using GSM mobiles connected with PC. Now you can connect multiple GSM mobiles with your PC and send bulk SMS simultaneously by the help of this mobile text messaging software. SMS gateway application can deliver promotional campaigns, invitations, important alerts, reminders, share market updates, product launching details and other personalized SMS around the world in less time. Mobile SMS texting apps forwards group text messages over national or global mobile network without requiring any internet connection.
➪ Increase your business presence in market via bulk SMS software!
Get in touch with your mobile audience with bulk SMS software.
Advertise your business products and brands by broadcasting bulk SMS.
Expands your business and Increase your business sales.
Communicate with customers and clients via bulk SMS software.
Enables user to send multiple text messages from PC using GSM technology based mobiles.
Does not require internet connection to send bulk messages via software.
Provides inbuilt delay delivery option to control the load of bulk SMS broadcasting.
Has inbuilt list wizard option to maintain the list of contacts or groups which may need during the message sending procedure.

Supports Unicode languages to send bulk messages in any text format.
Empowers user to send standard messages or notification as per requirements.
Allows user to skip duplicate number entries during the message sending process.
Allows user to connect multiple mobiles with computer at the same time and send bulk text SMS.
Supported GSM technology based mobile brands: Mobile text messaging software supports all brands of GSM technology based mobile phones including Nokia, Samsung, Motorola, LG and many others.
Select the Product you want.