Reasons to choose SendgroupSMS.com bulk SMS software
Bulk SMS Software sends bulk numbers of text messages, Job alerts or notifications. Using SMS broadcasting program, you can easily send invitations, holiday greetings or announcements in bulk. Purchase our different bulk SMS software to send group sms across the world.
No Internet connection and online SMS gateway software required.
Capabilities to send SMS in English and non-English characters.
Provide Mobile phone connection wizard.
Load contact numbers saved in the PC from Excel or TXT files.
Provides option to skip duplicate number entries.
Option to save sent messages as templates.
Facilitates to send standard SMS or notification Text worldwide.
Can send SMS to all mobile networks.
No hidden, monthly, or setup costs.
Compatible with all major mobile phones Windows, GSM, Android, Blackberry and many more.
In-built exclusion list wizard to maintain the list of contact numbers, which you need to exclude when sending bulk SMS.
Useful for sending Personalized SMS, Product promotion campaign, News alerts, Share market information, Event notification, Reminders and much more.
Currently helping Industrialists, Corporate, Schools, Colleges, Banks, Hospitals, Insurance sector, Event organizers, Tour agencies, Training institutes, Stock brokers, financial institutions and many more...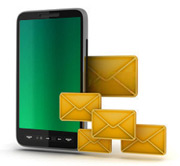 Select the Product you want.