Select the Product you want.
Bulk SMS Software for Windows based mobile

Price : $45.00

Category : SMS Sending Software

Availability : In Stock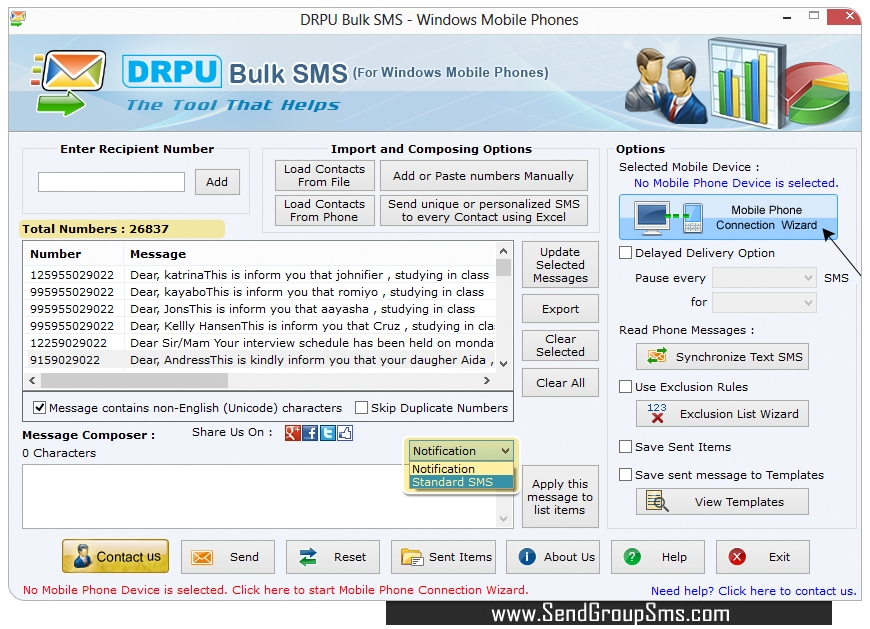 Step1 :

Use Import and composing options to load contact numbers, add and paste numbers manually or send unique and personalized SMS.
Windows mobile sms software for Pocket PC or PDA devices compose and send windows text message from PC to group of mobile phone users via using Windows based mobile phone, Pocket pc and PDA devices.

No need to download microsoft sms server or use windows sms gateway for using windows text messaging program. Sms gateway software for windows mobile delivers unlimited text messages. Connect your Windows mobile phone to your computer and start sending sms from windows phone in bulk numbers.
➫ Software Features

Professional quality bulk sms application windows mobile phones, Pocket PC, PDA devices and smartphone sms program.
Bulk sms program for windows mobile load Contacts From File, Phone memory or Send unique or personalized SMS to every Contact using Excel.
Group sms software windows mobile provides option to send message that contains non-English (Unicode) characters.
Pocket pc sms program works with all major brands of Windows based mobile phone devices to send windows mobile messages.
No internet connection or sms gateway software required to execute the program.

Provide option to send Notification or Standard SMS while using windows mobile sms application.
Windows sms software provides exclusion list Wizard option to maintain the Lists of contacts or Groups, which you may need to exclude time to time when sending messages.
Sent windows phone sms can easily be saved in txt, html, xls file format and viewed by the user.
Microsoft text message program provides facility to send SMS using Delayed Delivery Options to manage the load of sms.
Windows sms application provides option to save sent message to templates for future use.
Bulk sms software for windows mobile is suitable for Home users as well as Business professionals to forward instant bulk text messages in minimum time and resource required. Download and evaluate Bulk sms application for windows mobile with free trial evaluation version and place order to get licensed version of windows mobile text message program.